Riyadh Mobility Gender & Driving
2014-2017
︎︎︎
Project Repo
Project Leads
Sarah Williams
Marta Gonzalez
Mansour Alsaleh
Areej Alwabil
Researchers
Carlos Sandoval Olascoaga Almaha Adnan Almalki Salma Aldawood
Tariq Alhindi
Zeyad Awwad Aljoharah Alfayez Najat Alrashed Jumana Almahmoud
Cortni Kerr
Exhibition Design
Sarah Williams
Carlos Sandoval Olascoaga Lucy Liu
Waishan Qiu
Wenzhe Peng
Wenfei Xu
Student Work in Exhibition
Dennis Harvey
Brandon Peterson
Shin Bin Tan
Elaine Kim
Cortni Kerr
Waishan Qiu
Xu Zhang
Sergio Galaz Garcia
Weiqian Liu
Jon Campbell
Corinna Li
Scott Margelson
Luke Mitch
Special Thanks
Mike Foster
Overview
Similar to many rapidly developing cities, Riyadh, Saudi Arabi experiences severe traffic con- gestion. Working as part of the MIT (CCES) and King Abdulaziz City for Science and Technol- ogy (KACST) collaboration on Integrated Transport Systems, my research team set out to understand the relationship between mobility and gender.
In Saudi Arabia, gender shapes the cities as there are strict laws about how women can act in public. At the time of the project women were not allowed to drive, yet there were talks about the potential for changing this policy. Through this project, our team identified gendered mobility patterns based on the places women travel to most often -- using social media data to identify those locations. The research also looked at women's employment accessibility, based on travel costs, and found as the expenses increased women in the workforce decreased. The work was presented to the government through a formal presentation and exhibition at MIT. Women can now drive in Saudi Arabia, and perhaps the work played a small role in making that happen.
The Big Data, Visualization, and Society course, which investigates urban policy questions through contemporary data analysis and representation methodologies, used the research in Riyadh as a focus. Students worked with Cell Phone Detail Record (CDR) data and social media data for the city of Riyadh, Saudi Arabia, to visualize policy questions around the development of Riyadh's subway systems, which is currently under development. Students analyzed the data with support from MIT's Civic Data Design Lab (CDDL), HumNet Lab MIT, Center for Complex Engineering (CCES) and KACST. An exhibition, developed by CDDL, of the students work, was shown at MIT's Keller Gallery in the fall of 2016.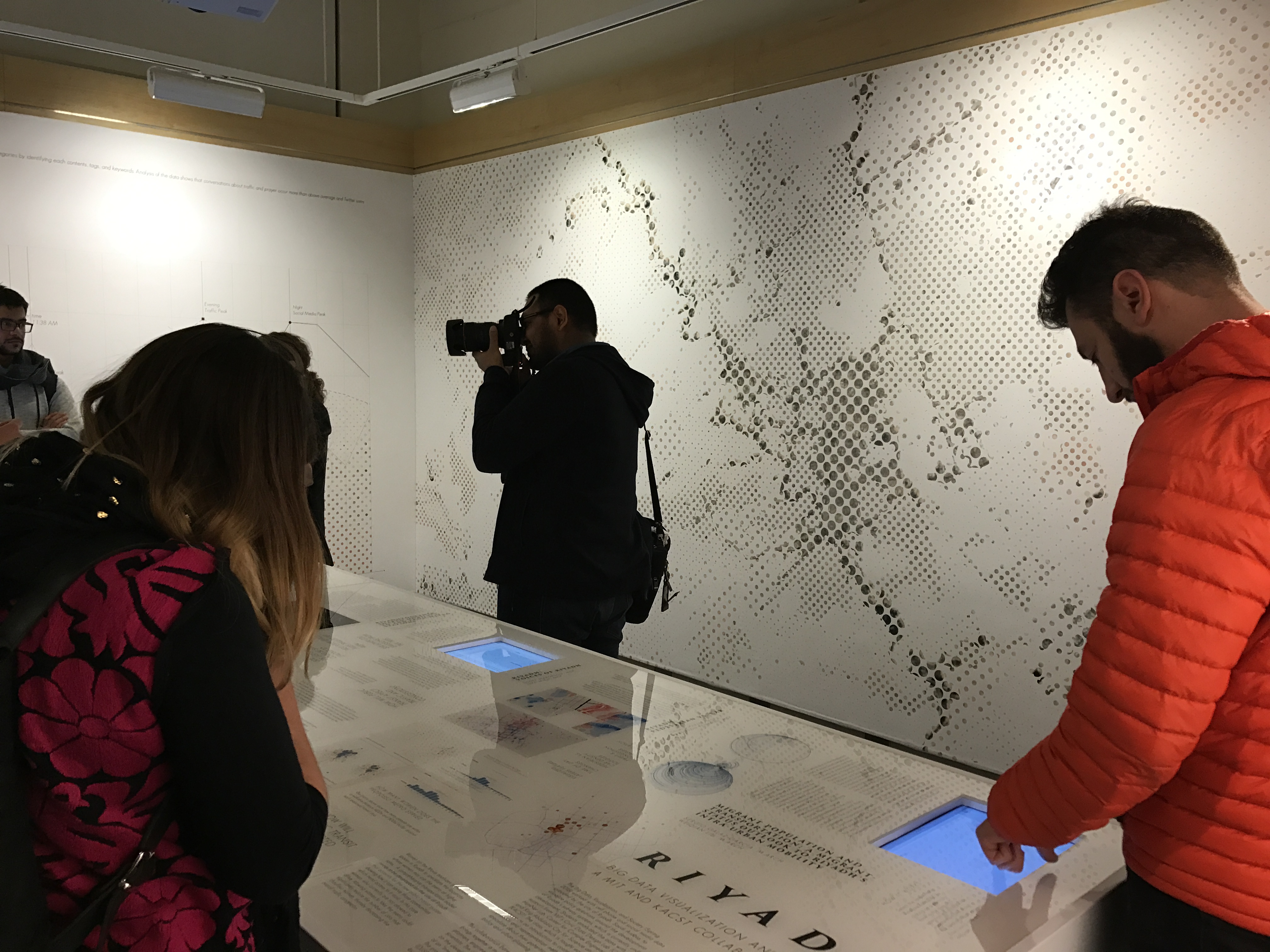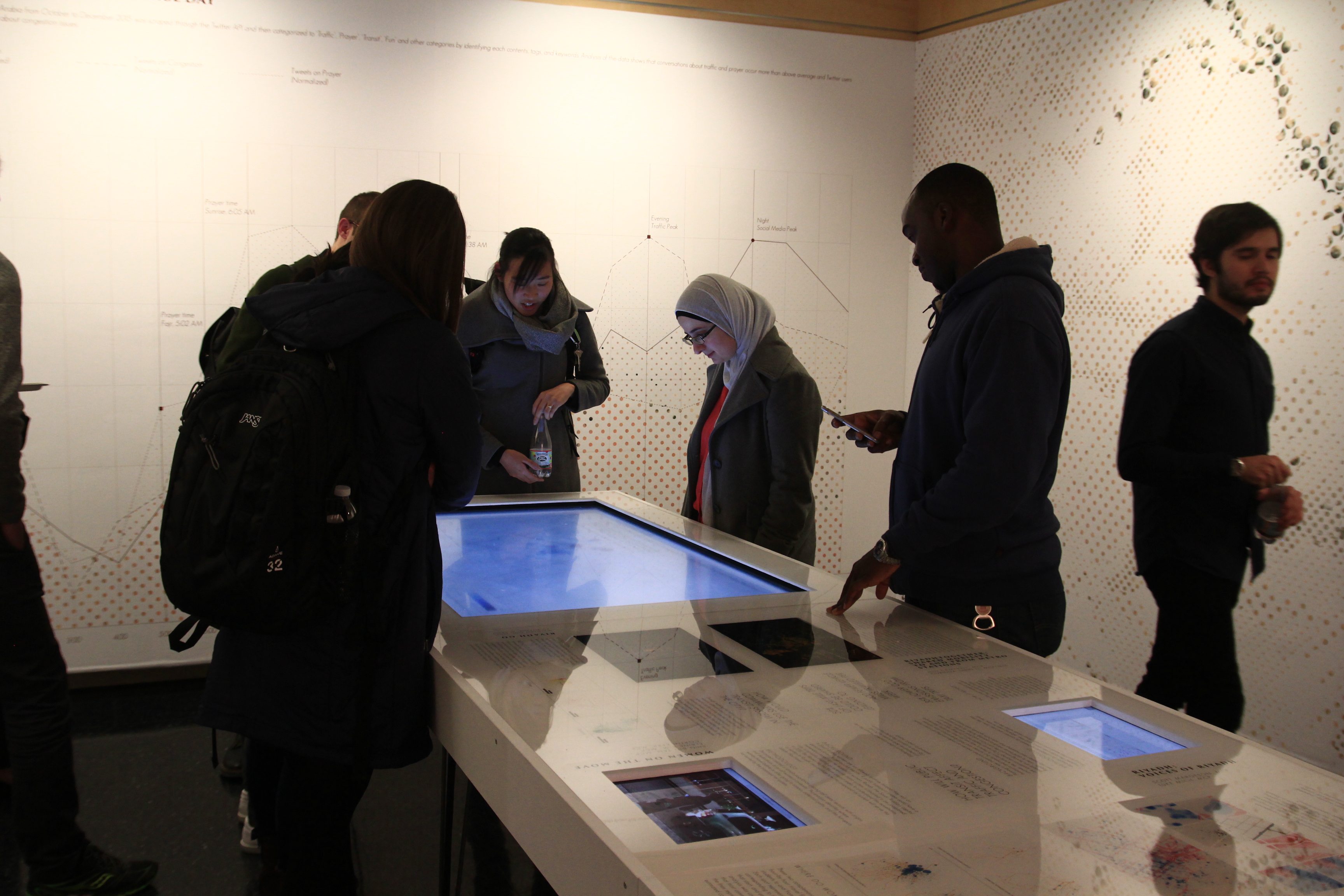 Social Media and Gendered Space
To make a congestion model that estimates how travel might change if women can drive, one must first identify regular trips. Twitter data was useful at understanding locations which females traveled to the most.
The images on these two pages are from "Understanding Gendered Spaces Using Social Media Data" an article published in the International Conference on Social Computing and Social Media in 2017 that used social media data to identify gendered spaces.
Publications
Williams, Sarah, Waishan Qui, Zeyad Awwad, Aljoharah Alfayez. "Commuting for Women in Saudi Arabia-Metro to Driving-Options to Support Women Employment." Submitted, Journal of Transport Geography, November 2018.
Alfayez, Aljoharah, Zeyad Awwad, Cortni Kerr, Najat Alrashed, Sarah Williams, and Areej Al-Wabil. "Understanding Gendered Spaces Using Social Media Data." In International Conference on Social Computing and Social Media, pp. 338-356. Springer, Cham, 2017.
Alhindi, Tariq, Salma Aldawood, Jumana Almahmoud, Carlos Sandoval, Areej Al-Wabil, Mansour Alsaleh, and Sarah Williams. "Towards Urban Tribes in Saudi Arabia: Social Subcultures Emerging from Urban Analytics of Social Media." In International Conference on Social Computing and Social Media, pp. 258-266. Springer, Cham, 2016.
Press
"
The Many-Faceted Career of Sarah Williams
" ArcUser, 2017.
Exhibition
"Riyadh on the Go," Keller Gallery, MIT, Cambridge, MA,
2016.