Pollution Through Chinese Eyes
2012-2014
︎︎︎
Project Website
Project Lead
Sarah Williams
Project Manager
Wenfei Xu
Research Associate
Mike Foster
Support from
The Samuel Tak Lee Real Estate Entrepreneurship Lab
Overview
Pollution Through Chinese Eyes is a web-based application that documents how Chinese citizens respond to the country's pollution by gathering images they post on China's Twitter (Weibo). The pictures of Chinese landscapes shrouded in haze, show what it looks like on the ground in many of China's most polluted cities, and reveal that the problems are widespread. Visitors to the application view social media postings in categories generated from Weibo hashtags about pollution. The map interface allows users to observe spatial trends in the pollution posts.
Social media is widely used in China, including to discuss important social issues. Environmental pollution - most notably air pollution caused by China's vast factories - is one of the most controversial topics. Yet the government's tight control of information makes it hard to know how Chinese citizens react to these conditions. Discussions on social media are not always captured by these government controls and can provide a lens into Chinese public opinion.
The Application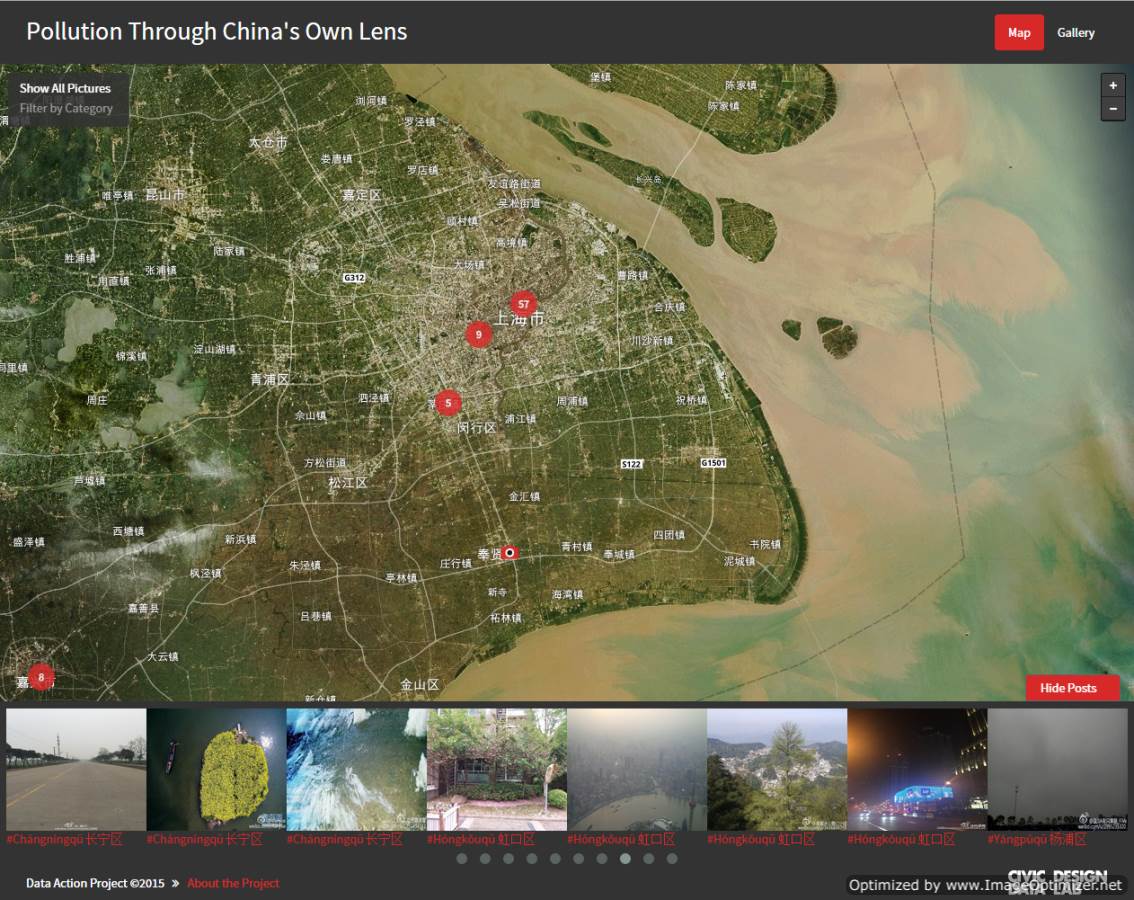 When users first navigate to the application, a window will lead them to a map that displays data clustered by location across China and the world. Users can click on a cluster of posts to zoom in to a specific locations. Individual posts are represented by a camera icon. At the bottom of the map, there is a single row of images. These images represent the posts that are within the current extent of the map. Hovering over a single camera icon will locate the post in the row of images. Users can click on an image to see it at a higher resolution. In the upper left of the map, Filter by Category can be used to view different types of posts.
The Gallery
The gallery component operates in a similar fashion to the mapping application. To visit the gallery, click on an image in the map, then click View Gallery. Users can also click the Gallery button at the upper right of the map. The gallery allows for filtering by category, just as on the map. Click on each image to read more on the post and get a detailed view of the post. In this detailed view, clicking View on Map will take you to the location of the post in the map component.