Living Heritage Atlas | Beirut
2022
︎︎︎
Project Website
Civic Data Design Lab
Sarah Williams (Director)
Carmelo Ignaccolo (Lead Researcher)
Ashley Louie (Project Manager)
Kelly Fang
Enrique Casillas
Gatlen Culp
Huiwen Shi
Sophia Zheng
Future Heritage Lab
Azra Aksamija (Director)
Daniella Maamari (Lead Researcher)
Sarine Agopian
Ramzi Alieh
Ahmad Beydoun
Racha Doughman
Reem Farhat
Kamila El Kechen
Raafat Majzoub
Fatima Moussa
Reem Obeid
Rasha Zayour
Support
Dar Group
Overview
Living Heritage Atlas | Beirut
is a design-based research project that contributes to the urban planning discussion on Beirut's heritage by rendering visible the often unrecognized living heritage of craftsmanship—with its crafts, public spaces, and local knowledge.
Developed by a partnership between the
Civic Data Design Lab (CDDL)
and
Future Heritage Lab (FHL)
at MIT and supported by
Dar Group
,
Living Heritage Atlas | Beirut
responds to challenges Beirut has been experiencing since the aftermath of the port explosion in August 2020. With humanitarian aid and policy focused on supporting reconstruction in Beirut, there is a need to advocate for the cultural preservation and continuity of living heritage. Operating at the intersection of heritage, constructing the maker infrastructure, and contributing to the local economy at a variety of urban scales, craftspeople are a vulnerable group of individuals, who have been exponentially marginallized over time.
Living Heritage Atlas | Beirut
advocates for the intangible heritage of craftsmanship in Beirut through design intervention by bridging the physical presence in the city with a digital infrastructure. Our team has constructed an open-source database that documents visual imagery and geolocation of current craft workshops and historic data sourced from local archives, craftspeople, and local residents.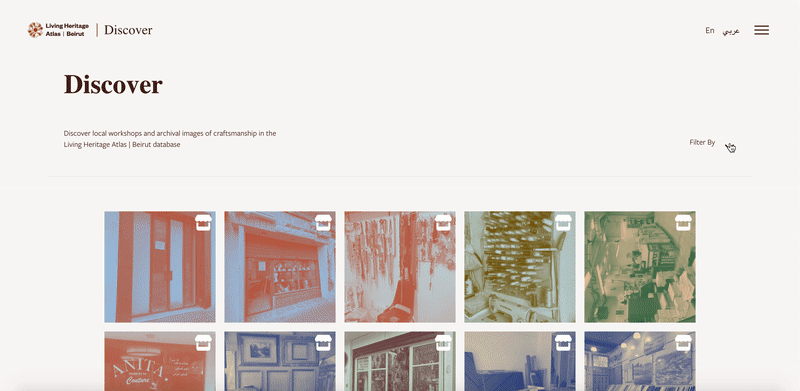 This unique dataset was initially created through the compilation of surveys conducted in the field, interviews with local stakeholders, and archival research. The data collected by our team includes personal photos from craftspeople, libraries, private collectors and is open-source and available as a resource to download at
livingheritage.mit.edu/download
.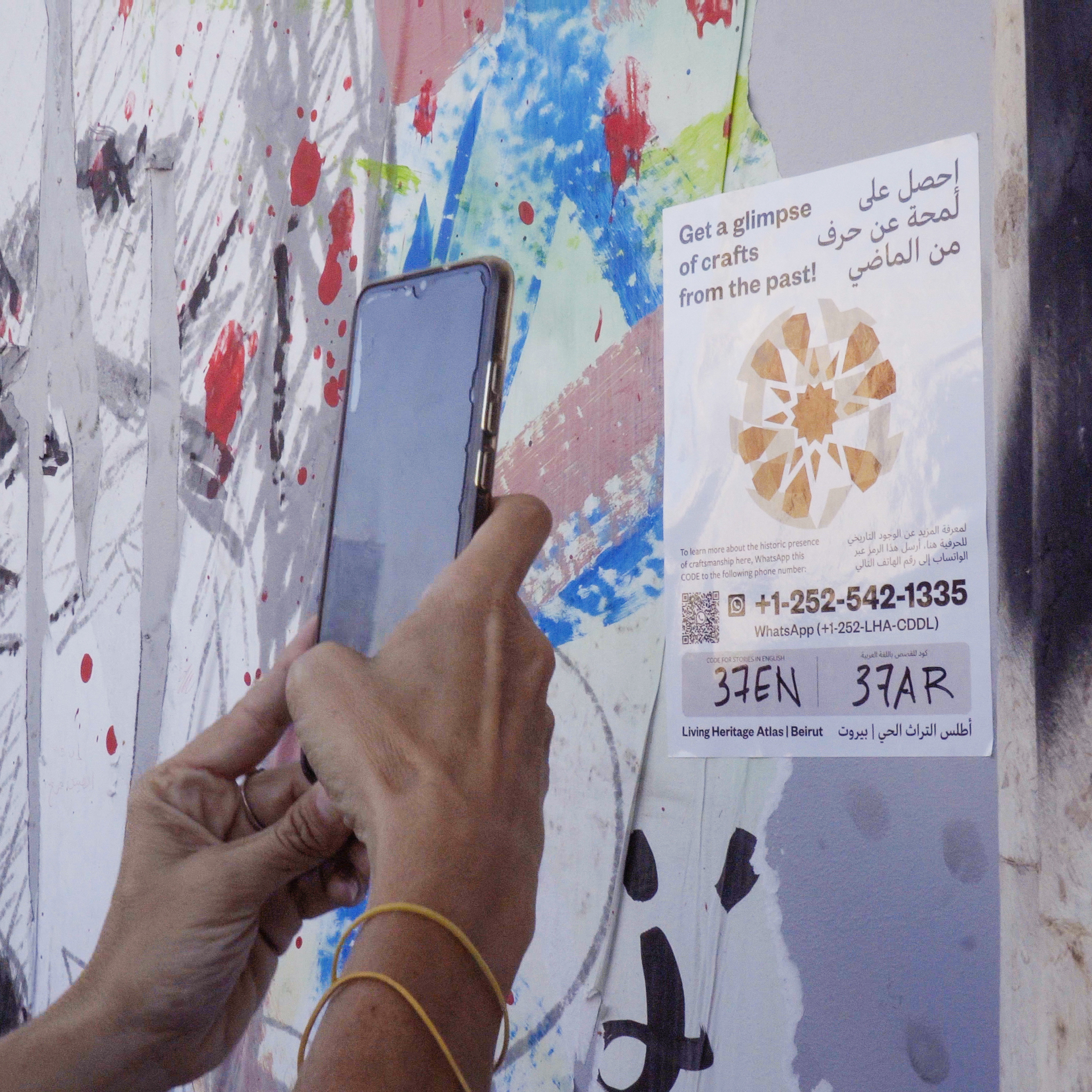 Additionally, a series of small neighborhood-wide interventions were deployed with street stickers and physical signage to connect physical spaces in contemporary Beirut with the locations of historic images. Visitors can text a code to the Living Heritage Atlas WhatsApp to learn more about the historic presence of craftsmanship in Beirut by receiving an image and a story tied to various locations throughout the city.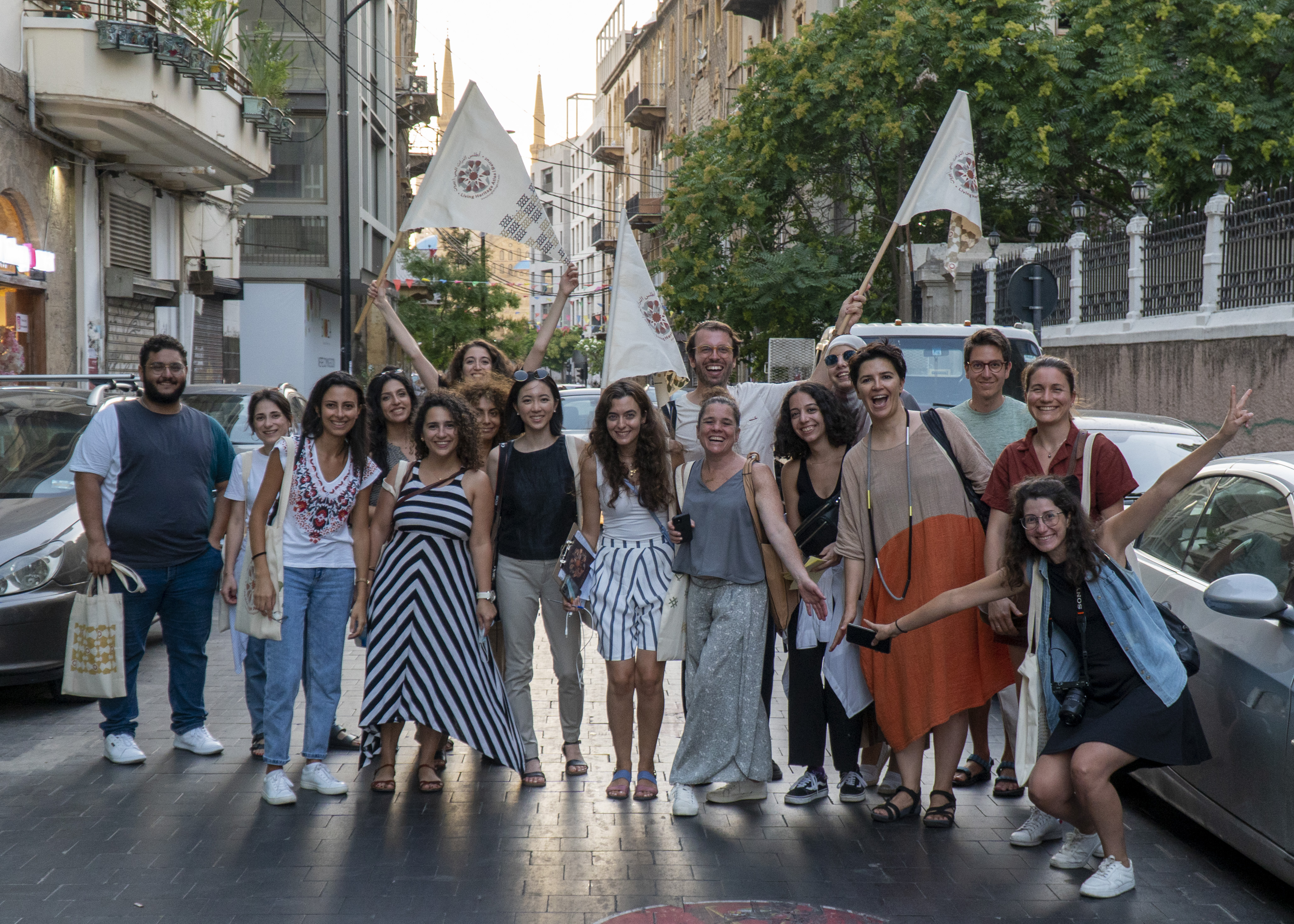 A series of community driven events were held in July 2022 to groundtruth data, connect stakeholders, attract visibility for craftspeople, and map additional living heritage locations of Beirut's craftsmanship. The database continues as an ongoing resource for stakeholders to add additional craft workshops or archival images to the live database via
livingheritage.mit.edu/contribute
.
Explore the
Living Heritage Atlas | Beirut
database at
livingheritage.mit.edu
.
Exhibitions
︎︎︎ Rebuilding Beirut: Using Data to Co-Design a New Future. Time Space Existence, 2023