2014-2017
︎︎︎
Project Website
Project Lead
Sarah Williams
Project Manager
Wenfei Xu
Research Assistants
Zhekun (Chester) Xiong
Chanping Chen
Michael Foster
Shin-bin Tan
Xinhui Li
Xudon Sun
Dalma Foldesi
Amber Guo
Elena Vanz
Ege Ozgirin
Exhibition Design
Sarah Williams
Chaewon Ahn
Zhekun Xiong
Ege Ozgirin
Collaborator
Professor Li, Tongji University
Support from
The Samuel Tak Lee Real Estate Entrepreneurship Lab
Overview
"... it's like having a map of the foreclosure crisis in the US before it happened."

Many cities have been represented through a filter of governmental data. While some local governments have made conscious efforts to make this data more publicly available, data access remains a challenge in many parts of the world. In countries such as China this data is often hard to obtain, or is aggregated into larger spatial representations which obscure the detail of the city and the people who live within it. The internet has in many ways revolutionized how urban data is both gathered and generated. Public opinion pages, online real estate sites, and similar Web 2.0 based websites generate a tremendous amount of data at a much finer level of detail than traditional sources. Similarly, social media sites have created the ability to describe the modern city through voice of its people and create an alternative publicly generated data set.
In this project, we investigate land use given the social patterns observed through social media. Through these means, we aim to understand broader real estate and urban issues in China from a granular and descriptive perspective. Our ultimate goal is to create an app that allows people to respond directly to questions and issues raised in the observation process, giving voice to issues that often do not have this type of input.
Data Model

Data is hard to obtain in China and the innovation of the Ghost Cities model is that it uses openly available data scraped from social media and websites to establish the location of underutilized and vacant land – a process that is open to anyone to replicate.
Scripts were created to download data from Dianping (Chinese Yelp), Amap (Chinese MapQuest), Fang (Chinese Zillow), and Baidu (Chinese Google Maps) provided the base of the model.
Spatial clustering was applied to residential cells with amenity scores below the mean to identify those locations which were likely ghost cities.
Interviews
Local academics, planners, and real estate developers were shown the results of the Ghost Cities data analysis to verify the results of the model. Their thoughts provide insights into Chinese policies that have caused vacancy.
The existence of Ghost Cities highlights Chinese practices of over development and dependence on housing as an investment strategy. For example, Chinese citizens may purchase four or five houses and live in only one. The others properties are seen as investments and may lie vacant until the owner decides to sell. This means that the apartments in Ghost Cities developments may be completely sold, but the owners do not move there because of a lack of jobs, poor schools or city services. Many of those interviewed believed that areas where Ghost Cities exist are more susceptible to the effects of a widespread economic slowdown – if China were to have one.
Ground Truthing
To validate the models results, our team visited over 50 residential areas in Chengdu, Shenyang, and Tianjin and interviewed people at the sites, took photos, reviewed Baidu street view images, and in some cases flew drones to record aerial imagery -- including the videos seen above.
The results of these on the ground investigations showed the model worked well at documenting under-utilized residential locations, picking up everything from vacant housing, stalled construction, to abandoned older residential locations, creating the first data set that establishes risk in the Chinese real estate.
Interviews revealed that the Chinese government believes, people will eventually move to these vacant areas - some sources thought they will be populated in the next 5 years. Abandoned and aging properties identified by the model highlight areas in which the informal economy is more active.
A drone flight captured images of each site during the ground - truthing process. Image to right shows a drone taking off on site.
Interactive
The Ghost Cities Interactive Tool (
ghostcities.mit.edu
) is meant to educate anyone about economic development problems that have created high vacancy rates. The results often show that there is a lack of services including schools, hospital, groceries and restaurants.
Use the tool in the same way we hope Chinese planners, real estate developers and the public would use it – to identify under-utilized land and determine some possible solutions. Locate areas in each city that are most in need of government intervention and use the tool to brainstorm with some solutions.
The bright red cells on the map mark Ghost Cities. Cell gradients from red to white show high (white) and low (white) amenities scores. Add the actual location of grocery stores, malls, schools and restaurants to the map by clicking on the labels on the radial graph on the right. View images of street life from the Baidu street view images.
Exhibition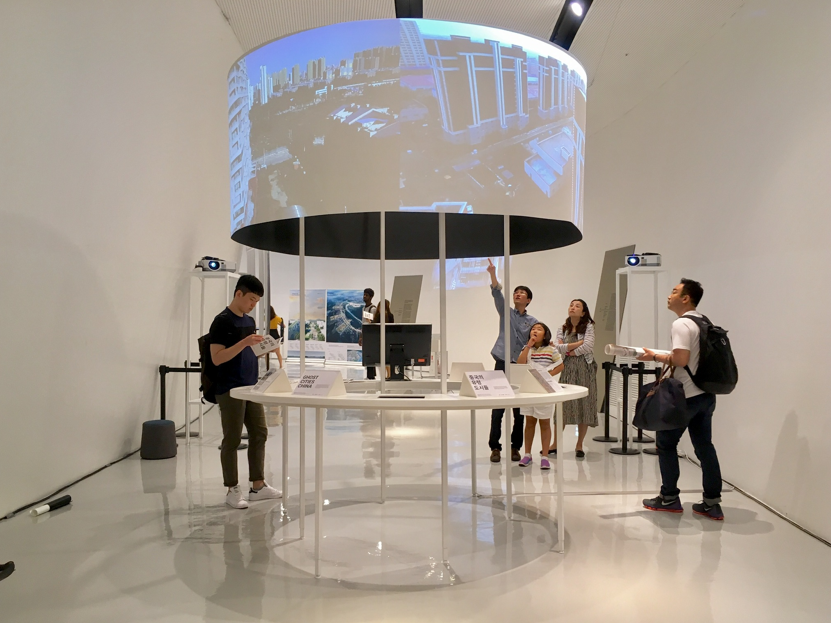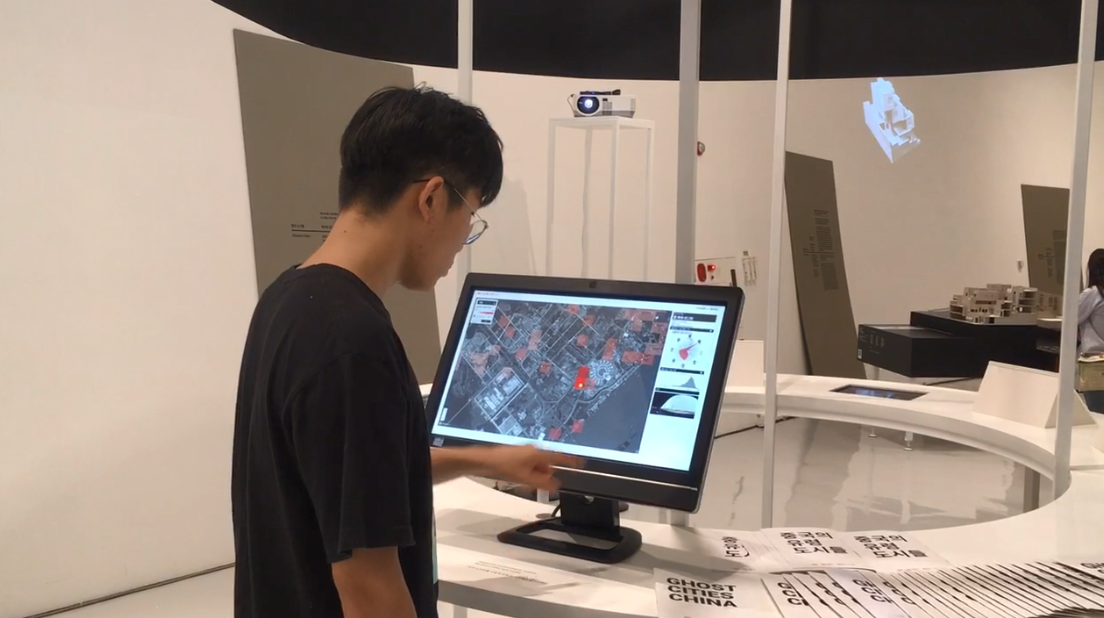 Publications
Williams, Sarah, Wenfei Xu, Mike Foster, and Chanping Chen, Shen Bin Tan. "Ghost Cities of China: Identifying Urban Vacancy through Social Media Data." Cities, October 2018
Williams, Sarah. "
Ghost Cities: Built but Never Inhabited
." Urban Next, June 2018
Williams, Sarah. "Ghost Cities: Understanding Patterns in Chinese Urbanization." Imminent Commons: Commoning Cities, Seoul Biennale of Architecture and Urbanism, Edited By Helen Hejung Choi and HyungMin Pai, 2017.
Press
︎︎︎ "
The Many-Faceted Career of Sarah Williams
" ArcUser, 2017
Exhibitions
Seoul Biennale of Architecture and Urbanism, Seoul Korea, 2017