Distance Unknown: Risks and Opportunities of Migration in the Americas
2022
︎︎︎
Exhibition Website
︎︎︎
Project Website
︎︎︎
Report & Executive Summary

︎︎︎
Migrant Stories Visualization
Exhibition, Data Analysis, and Storytelling
MIT Civic Data Design Lab
Sarah Williams (Director)
Ashley Louie (Project Manager)
Alberto Meouchi
Nikolas McGlashan
Julia Camacho
Man Wai (Jenny) Chan
Jariyaporn Prachasartta
Ilana Strauss
Ziyi Tang
Yuehan Wang
Siemond Chan
Graphic Design
MTWTF
Glen Cummings
Sarah Dunham
UN World Food Programme
World Food Programme (WFP)
Rossella Bottone
Espedito Nastro
Annette Castillo
Margarita Lovon
Marta Ortiz
Francesca Lotti
Chiara Micalizzi
Gianluca Sacco
Patrizia Boschini
Tapestry Production
Casa Tochan
Bryan, Carlos, Efrain, Freddy, Gabriela Hernandez, Gerson, Jeciel, Luis, Oscar, Oscar, Ramon, Roberto, Vicente, Yaciel
Fundacion MITZ
Andrea Isnardo, Gerardo Reyes, Judy Achar, Lilia Contreras, Lina Holoschutz, Maribel Perez, Mayra Mateo, Miriam Segundo, Monica Castillo, Silvia Maldonado, Renee Lombardo, Salvador Perez
Distance Unknown is an awareness campaign that communicates the complicated realities of the migrant experience through an exhibition co-produced with migrants. This campaign builds upon key findings from the report
"Charting a New Regional Course of Action: The Complex Motivations and Cost of Central American Migration"
- made in collaboration between the Civic Data Design Lab at MIT, the United Nations World Food Programme (WFP) and the Migration Policy Institute (MPI). The exhibition features a physical data visualization that was co-produced by migrants and an interactive digital screen where visitors can learn about individual migrant stories within the data. The work has helped to bring attention to the migrant experience and as a result helping to generate donor support for the work.
Overview
Migration is full of distances unknown — how far, costly, mentally and physically straining the journey will be for migrants as they separate from their home, their country, and the family they love. Migrants take on many risks and opportunities, yet it is clear that migration is not a choice, food insecurity drives migration, migration costs are high, and migration creates benefits for both countries of origin and the places they find new homes.
DISTANCE UNKNOWN
is an exhibition built from data collected from 4,998 households surveyed by the United Nations World Food Programme (WFP) in El Salvador, Guatemala, and Honduras in 2021 and 2,109 migrants from 43 countries interviewed at four border locations: Colombia, at the border of Panama's Darien Jungle, Honduras, and Guatemala in 2022, as they make their journey to Mexico and the United States. An interactive map allows visitors to explore their journeys and the barriers they face along the way. The motivations of the Central American migrants are woven into a tapestry of "migrant money," and each bill explains insights found in the data. The data found in the "migrant money" was sourced from a report titled
Charting a New Regional Course of Action: The Complex Motivations and Costs of Central American Migration
, co-authored by the UN World Food Programme, the Migration Policy Institute, and the Civic Data Design Lab at MIT (CDDL). The key findings of the report can be found on the
migration.mit.edu
website.
WHY
The Motivational Tapestry represents the root causes of migration from 1,624 migrants in El Salvador, Guatemala, and Honduras, taken from a World Food Programme survey in 2021. Handwoven by 13 Latin American migrants, the tapestry is made of "migrant money" designed to depict migrants' stories. Each individual bill highlights a different issue: the high cost of migration, the importance of remittances, migrants' contribution to multiple economies, the risks they face, and the fact that most migrants would prefer to stay home. The bills are folded into squares representing one migrant's motivation to migrate: economic (blue), quality of life (yellow), reunification (orange), security (purple), and climate change (green).
Migration Comes at High Costs
In 2021, Central American migrants collectively spent USD 2.2 billion to migrate to the United States. Raising funds through loans mostly from relatives and friends, the figures amassed by migrants is comparable with government spending on primary education. For example, Guatemalan migrants spent USD 1.2 billion to migrate, while their government spent USD 1.3 billion on primary education. The screen adjacent to the Motivational Tapestry encourages visitors to explore individual
stories
within the data and dive deeper into one migrant's cost and motivations for migration.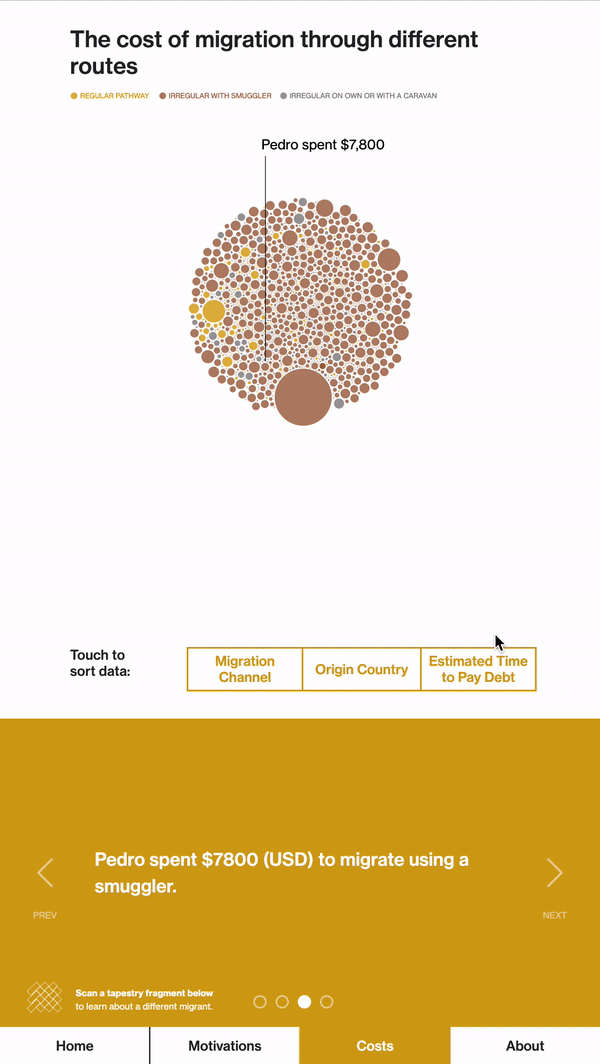 WHO
For many migrants, the path ahead is not a choice but a difficult decision of necessity. Primarily driven by economic motivations (80%), migrants seek to support their family's basic needs by sending remittances, which are primarily spent on food and shelter. Some migrants also feel pressure to emigrate because of security concerns, the economic effects of climatic shocks, and reunification with family members who have already migrated.
The exhibition reveals interviews with migrants and a number of the essential belongings needed to make the passage between Panama's Darien Jungle and the border of Mexico. TikTok has become a resource for migrants providing varying levels of accuracy; view these accounts along with interviews of migrants' lived experiences.
WHERE
In 2022, the World Food Programme interviewed migrants in 4 border locations: Colombia, at the border of Panama's Darien Jungle, Honduras, and Guatemala. These migrants were making their way through Central America to reach Mexico and finally the United States. The migrants were asked questions about their home country, migration routes, preparations, costs, and risks they had to take. This rare data set includes 2,109 migrants from 43 countries as far away as Senegal, Guinea, and China. Migrants find transport to South America and then travel to the Colombia/Panama border before starting the migration trail surveyed. The majority of migrants on the path come from Cuba (41%) and Venezuela (18%), followed by Haiti (9%). Many migrants are unprepared for their journey and are surprised by the considerable cost and supplies needed for their long passage. The global migration routes shown on the screen tell their stories.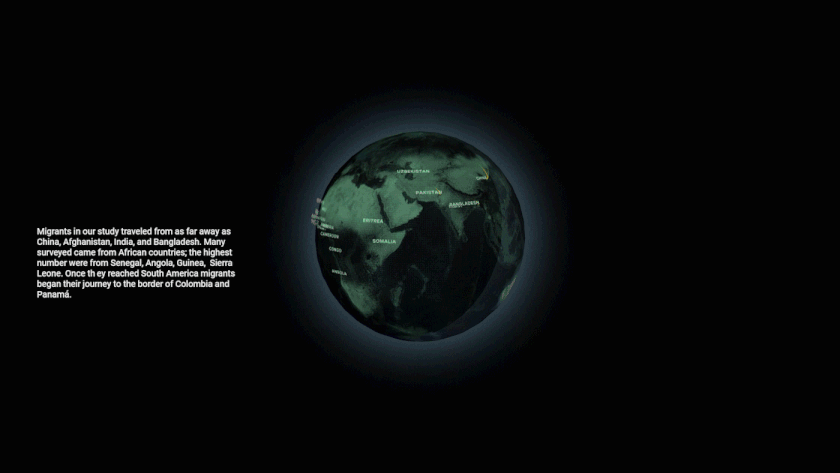 Migration is Mutually Beneficial
The United States and Central American countries benefit from migration. The United States depends on migrants for labor; for example, 73% of the U.S. agricultural workforce are migrants. Central American countries also benefit from the money sent back home (remittances); 95% of remittances go towards purchasing basic needs (food, shelter, clothing, education), providing a social support system for some of the country's poorest families. Remittances also make up a large portion of Central American countries' GDP; in 2020, remittances accounted for 24% of El Salvador's GDP. These mutual benefits highlight why creating more legal pathways would be helpful to all those involved.
Explore the interactive website with data visualizations at
migration.mit.edu
.
Read the full report,
Charting a New Regional Course of Action: The Complex Motivations and Costs of Central American Migration
.